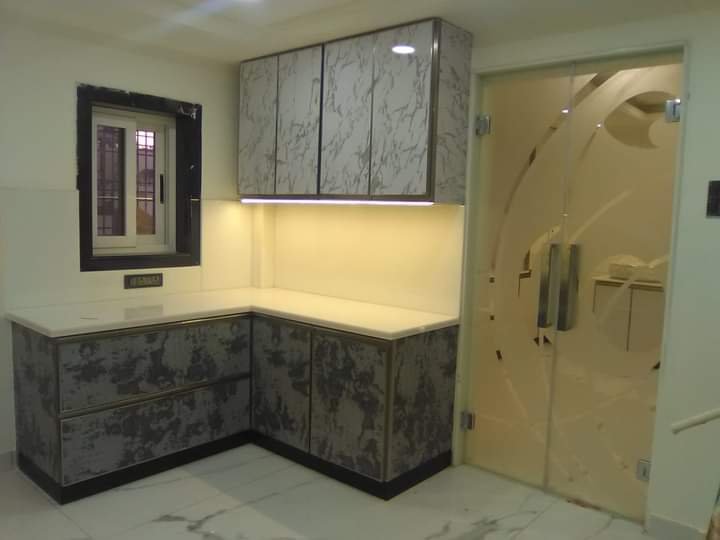 Why Aluminium Kitchen Cabinets are the Best Option for your Home
 is one of the most important rooms in the house, and it can have a big impact on how you live your life, especially if you're cooking there daily.
 If you want your kitchen to be more than just another room, you'll want to invest in high-quality, durable appliances that will last for years. 
Aluminium Kitchen cabinets, in particular, should be made of sturdy materials to ensure they stand up to regular use, as well as occasional bumps and falls from kids and pets running in and out of the room.
Aluminium is a lightweight, durable and non-toxic material. It has been used in a number of industries, including aerospace engineering, construction, transportation and household appliances like refrigerators.
 In kitchens, it is used to make cabinets and other furniture to create an ultra-modern look. The material is easy to clean and can withstand high temperatures so you don't have to worry about constant upkeep. 
Additionally, aluminium kitchen cabinets are available at affordable rates without compromising on quality.
Aluminium is a lightweight and durable material which is also waterproof.
 This means that no matter what spills or accidents happen, you don't have to worry about cleaning up afterwards because aluminium will not absorb liquids.
 It's also worth noting that aluminium cabinets can be used in any area of the house as they are corrosion-resistant and non-toxic.
Telangana is a bustling, cosmopolitan city and one of its most sought-after features is the wide variety of luxury apartments. 
With so many options to choose from, you might find yourself asking what makes aluminium kitchen cabinets such a desirable choice.
 Well, it's pretty simple: because they're not only easy to clean but also come in a huge range of colours that make them a fashionable choice for any home.
Aluminium has been used in kitchen design as a natural deterrent to pests and insects, as it is highly resistant to wear and tear.
 The metal also heats up quickly and can be cooled down fast. As it doesn't require any painting or polishing, aluminium kitchens have less maintenance than wooden or steel ones.
Aluminium kitchen cabinets offer a number of benefits over other materials such as wood, stainless steel and laminate. 
One of the most important is that aluminium is fireproof.
There have been many cases where people's homes have burned down due to a fire in their kitchens. 
This can be disastrous because it leaves a person homeless and jobless, not to mention all of the memories they had in their home that they will never get back.
Aluminium is Environmentally Friendly
The aluminium is environmentally friendly. With no PVC or formaldehyde, 
aluminium kitchen cabinets are a great choice for people with allergies and those who care about their carbon footprint. 
Another great thing about aluminium is that it won't discolor over time, so your kitchen will always look new and modern!
Aluminium is Cost Effective
Aluminium kitchen cabinets, aluminium cupboards in Hyderabad and near me, aluminium kitchen interior, aluminium cabinets.aluminium kitchen cabinet manufacturer